There are so many parks and outdoor spaces available close by; we often drive by and don't stop along the way. This weekend, take a short break from everything happening and use this as an opportunity to reconnect with the beautiful outdoors.
Here are just two nearby spots to check out; remember to check the latest news and information before venturing out: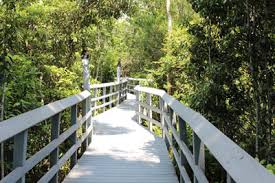 Fern Forest is a true "urban oasis." See if you can identify the more than 30 varieties of ferns and many plant communities while you stroll the boardwalk and get back in touch with nature in this over-200-acre park.
Where: 201 Lyons Road South, Coconut Creek, Florida 33063
Phone: 954-357-5198
Email: FernForest@Broward.org
Hours: Open 9:00am – 5:00pm seven days a week
Cost: Free
NOTE: Currently, according to the Fern Forest Nature Center website, "This park is open for passive use only — walking, jogging, and hiking. You must have a facial covering and observe social distancing. Social gatherings of groups of 10 or more are not allowed. Visitors not following these guidelines may be asked to leave the park. No dogs allowed."
If you haven't been to Butterfly World in a while – or ever – it's a must-visit. You can read more about its fascinating history here. Stroll through nature and enjoying the breathtaking number of butterflies flitting about. In addition, Butterfly World offers plants, seeds, ladybugs and butterfly pupa.
Where: 3600 W. Sample Road, Coconut Creek, FL 33073
Phone: 954-977-4434
Email: gardens@butterflyworld.com
Hours: Open 9:00am – 5:00 pm Monday-Saturday; 11:00 am – 5:00 pm Sunday. Admission closes at 4pm daily; Hours are subject to change due to weather. Please call 954-977-4434 for an update.
Cost: Varies, but there is a summer special running through August 31.
NOTE: Current Butterfly World rules:
Guests ages three and older must wear masks or facial coverings at all times – including outdoor areas. Children two and younger do NOT have to wear a mask- per county guidelines.
Guests must observe "social distancing" (6 feet apart) at all times.
Guests must be kind to staff and fellow guests.
The Lorikeet Encounter will admit only two parties at a time.