Did you know that there's quite the variety of wildlife in Tamarac? You may run into alligators, coyotes, burrowing owls, raccoons, opossums, or many other animals.
Not surprisingly, humans and critters are having more frequent encounters, given our population growth, which has resulted in a loss of wildlife habitat. And this can result in some uncomfortable, or even dangerous, situations, from property damage to serious injury to humans or their pets.
Often, our activities can attract wildlife looking for a quick meal or some shelter. Ideally, we would remove the item(s) that are attracting the wildlife, whether it's standing water (mosquitoes) or food left out (raccoons and more), and only resort to trapping an animal that's become a nuisance once we've tried other methods.
Help! There's an Armadillo Under My House!
If you need help, the best place to call varies depending on the type of animal.
If the issue is a domestic or feral animal (for example a dog, a cat, or a horse), your best bet is to contact either Broward County Animal Control or the Humane Society of Broward County.
If, on the other hand, you're dealing with a wild animal – such as an armadillo, iguana, raccoon, opossum or snake – the Florida Fish & Wildlife Conservation Commission (FWC) does permit a landowner to take such wildlife, under certain conditions. You can also look for a local Nuisance Wildlife Trapper on the FWC site; note that most of these trappers will charge a fee.
For alligators, call 866-FWC-GATOR (866-392-4286).
Note that there are many laws protecting Florida's wildlife; one person's nuisance may be another person's "back to nature." You can anonymously report wildlife law violators by calling 888-404-FWCC (888-404-3922).
A Word About the Burrowing Owl
According to the FWC, the Burrowing Owl is a "native, imperiled" species. As one of the smallest owls in the state (growing only to a length of about nine inches), this writer happens to think they're adorable, although her daughter finds them terrifying.  They usually live in open, treeless areas, and spend most of their time on the ground. They primarily eat insects but have also been known to eat snakes, frogs, small lizards, birds, and rodents.
Burrowing owls can be found on golf courses, vacant lots, and many other properties that have few trees. What is interesting is that South Florida's drainage of wetlands, while detrimental to many creatures, has actually increased the burrowing owl habitat.
To learn more about the burrowing owl, visit https://myfwc.com/wildlifehabitats/profiles/birds/owls/burrowing-owl/.
Coyotes: Not Just in the West Anymore
While we may think of coyotes as a Western U.S. animal, they've long been making their way east, and in fact are now considered a "naturalized species" in all 67 Florida counties, according to the FWC. While they're considered an important contributor to the Florida ecosystem, they have been known to prey on family pets. This infographic has helpful tips for coexisting with coyotes.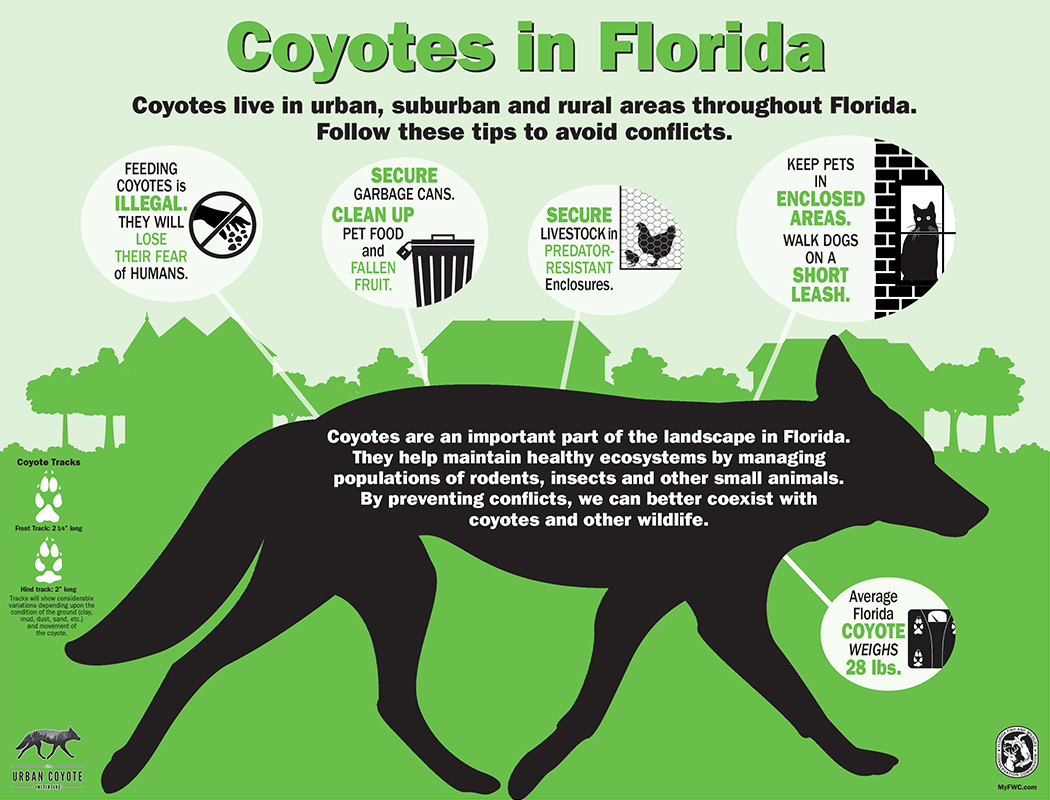 Remember, taking a few common-sense precautions and knowing who to contact when you encounter wildlife will go a long way toward keeping everyone safe.
For more information, visit https://www.tamarac.org/581/Living-with-Wildlife-in-Tamarac.